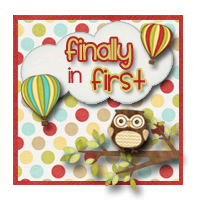 Finally in First is hosting a Font Linky party, hop
over and look at all the cool suggestions.
Yes I am a Font Addict!
Minya Nouvelle
is my FAVORITE font! It is a free font so just
google it.
Technical Difficulty-cant get it to show up… :0(
I can't wait to look at them all and of course
download… :0) I am off to visit the teacher store
and head back to school to work…crunch time…have
till Monday morning to be done as well as turn in
my "almost done" research paper. Wish I did not
need sleep-its so over rated!
Don't forget to enter my giveaway…winners will be
drawn on Monday evening-after the paper is
turned in!